A Special Place Appointment Policy
A Special Place offers free, one-on-one fittings for wigs, hairpieces and compression garments by appointment.
Walk-ins will be offered the next available appointment on a first-come, first-serve basis until our appointment slots are filled for the day.
We do accept walk-ins to our retail store to shop for hats, scarves and accessories during regular business hours. (Greensboro – Tuesday – Friday 10-5; Roanoke – Tuesday-Friday 11-5)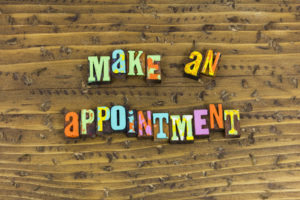 Do I Have to Make an Appointment to Try on Wigs?
Yes, trying on wigs requires a free, no-obligation consultation, which is offered by appointment.
What If I Just Want to Look at the Wigs?
We have about 1,000 wigs in stock in our Greensboro location, and about 150 on display. You are always welcome to walk in and view the display wigs, however, if you would like to try them on, or view the other wigs in our inventory, you will need a consultation.
Why Do I Need an Appointment for a Wig Consultation?
There are 3 Reasons to Make an Appointment
You receive the best service possible! For each fitting, we set aside a private fitting room and dedicated time with an experienced consultant who will work one-on-one with you to achieve the best possible results. An appointment assures you won't have a long wait or even have to return a different day for your fitting. We value your time!
We are able to balance our day – knowing our schedule for each day allows us to plan our staff, take care of all our clients for the day, complete our projects on time, take our lunch break and get home to our families at a decent hour! We can only take care of you when we take care of ourselves as well.
Appointments show respect for others. Many of our clients are dealing with emotionally overwhelming health situations, and value the privacy of a one-on-one consultation. When you schedule an appointment, you show respect by allowing them to have an uninterrupted experience.
What if I'm Not Ready to Buy a Wig?
Our consultations are free with no obligation to buy. Whether you schedule an appointment or walk-in, we hope you will stay and be our customer, but either way – you will never be pressured to buy anything!
How Far in Advance Must I Book an Appointment?
We usually book out 1-3 days in advance. Saturdays sometimes book up several weeks in advance, as well as around holidays and end of year. If you are hoping to make a same day appointment, feel free to call and we will let you know if we have any openings!
What About Compression Fittings?
Yes. Compression Fittings usually take about 1 hour, and are by appointment.
I'm a Repeat Client, and I Have Always Been Able to Walk in Before.
Thank You! We love our repeat clients! We appreciate your business. As we are becoming busier – much in thanks to you – we are now requesting everyone make appointments to receive the best experience ever!
The Bottom Line
Make an appointment – they're free with no obligation – it saves you time, ensures you the best possible experience!