Fall is here, winter right around the corner…no doubt about it, it\'s hat season! Hats are a great fashion accessory, and can keep you nice and cozy when the temperature drops…but when you are experiencing hair loss due to chemotherapy or other cause, hats take on a new starring role in your wardrobe!
As you notice department store shelve filling up with cute winter hats, you may ask, would that hat work for me? At A Special Place Wigs, we look for 2 factors when selecting hats for our hair loss clients – fabric and coverage (well 3 things – they have to be cute!)
Fabric – without a protective layer of hair, the scalp can be very sensitive to what touches it. Select soft, comfortable fabrics that will feel good against your head. Cotton is always a favorite choice. Avoid scratchy fabrics like wool or straw, unless it\'s lined.
Coverage – Think about the areas of hair loss. If you are only experiencing hair loss on the top of your head, most any hat will do. But, if you are experiencing total hair loss, you will want to look for a hat that comes over your ears and down lower on your nape. Newsboys and cloche style hats are excellent choices.
What if you find a fabulous hat, but it doesn\'t quite meet your criteria? Wheather the fabric is a little scratchy or the hat doesn\'t quite cover all the bare areas? Think about layering the hat with a scarf or a simple turban!
When selecting a hat, think about the season, and where you will be wearing it. Are you going to be inside, outside or both? A really warm hat may feel great outside in the winter, but if you go inside a heated building, you may find it uncomfortable. Also, big brimmed sun hats are great outdoors in the summer, but may seem a bit awkward indoors. This is another opportunity for layering with a scarf or turban, so you can take your hat off inside and still have full head coverage.
Choose colors and patterns that brighten and soften your face. While it may be tempting to stick with basic black because \"it goes with everything\"…but black can sometimes be harsh against your face. Don\'t be afraid to experiment with colors.
We invite you to visit our store to see the latest styles and colors, and chat with one of our consultants for expert advice!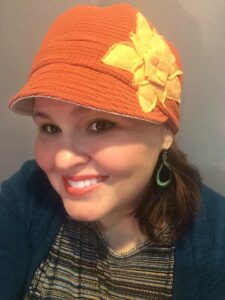 Flipside Hats are perfect year round